'East End Killer' Extradited, Charged with Four Deaths

By CHANDRA NILES FOLSOM, Correspondent
When Emanuel Lovell Webb arrived in Connecticut on February 14, clad in wrist and leg shackles, it was one extraspecial Valentine's Day for two detectives: Heitor Teixeira and Robert Sherback, detectives with the Bridgeport Police Department Cold Case Unit. Since 2000, they had been tracking the suspect dubbed the "East End Killer."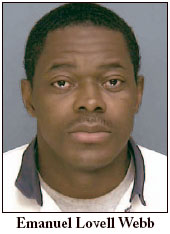 Webb, 40, was extradited from Georgia to Bridgeport and arraigned in Superior Court on February 15 for the murders of four Bridgeport women. Judge Earl Richards ordered Webb held in lieu of $4 million bond and continued the case. The judge had denied a motion from a public defender to reduce bail to $1 million.
Webb had been sitting in a Georgia jail cell on a parole violation when he was charged last year with the strangulation of 34-year-old Elizabeth "Maxine" Gandy, back in 1993. He has since been charged in the deaths of Sharon Cunningham, 39, Minnie Sutton, 37, and Sheila Etheridge, 29. All had been found dead in separate locations in Bridgeport's East End between 1990 and 1993.
In 1994, a Special Homicide Task Force was formed to investigate the murders, but it was disbanded after a short time, with few clues uncovered. The cases remained cold until last year when the two Bridgeport detectives matched Webb's DNA to evidence found at the crime scenes. At each location,DNA from either semen, blood or saliva had been left behind, according to court records.
The suspect's identity had been revealed when Webb's DNA was sent to the FBI by Detectives Teixeira and Sherback. Neither DNA technology nor nationwide profiles were available during the time of the murders. According to the arrest affidavit in the Gandy case, a check of the DNA that had been found under Gandy's fingernails directly matched Webb's DNA stored in the Combined DNA Identification System.
"When we were looking at some unsolved murders we sent evidence up to the lab and got two hits," said Det. Teixeira. "Then we looked further and found out there were more women killed with similarities to the others. We checked them out and got two more hits. We developed Webb as a suspect and then reinterviewed the witnesses. After we did a timeline, we found out he was incarcerated in Georgia." The two detectives traveled to the D. Ray James Correctional Facility in Folkston, Ga., and charged Webb with the murder of Gandy.
Before moving to Georgia, Webb had lived in Bridgeport. He worked in construction and as a security guard in Fairfield. Webb lived with his sister, Bernice Snead, and a girlfriend in the center of a 10-block radius where all the killings had taken place.
The four homicide victims have been described as drug users and three of them were said to have frequented the same bars and after-hour clubs in the East End, as did Webb. Additionally, there are still half a dozen other unsolved murders of women in the same area of Bridgeport during that period of time -- and police say Webb is a possible suspect. However, according to prosecutors, there are no DNA samples to test in any of those cases.
Webb had moved to Georgia in 1994 to be with family members. He found work in construction, but was soon arrested in the death of Evelyn Charity. Webb told authorities he accidentally strangled her during rough sex and then stabbed and robbed her to make it appear like a botched robbery.
Webb later pleaded guilty to reduced charges of involuntary manslaughter, robbery and motor vehicle theft. "So, that was one more woman he killed and he could have easily struck again," Det. Teixeira noted.
Webb was sentenced to 20 years in prison, but was released on parole in 2001. Officials in Georgia said Webb's parole was revoked for illegal drug use, and failure to report a residency change when he had moved back to Connecticut after being released from prison.
Under Connecticut extradition law, the state has only 180 days to try Webb.
(Contact Chandra at c.nilesfolsom@thejusticejournal.com)